Previewing the Georgia Bulldogs Upcoming Season
Posted by Sandy Izaguirre on Thursday, September 1, 2022 at 10:00 AM
By Sandy Izaguirre / September 1, 2022
Comment
Looking Ahead At the 2022 Georgia Bulldogs Regular Season Schedule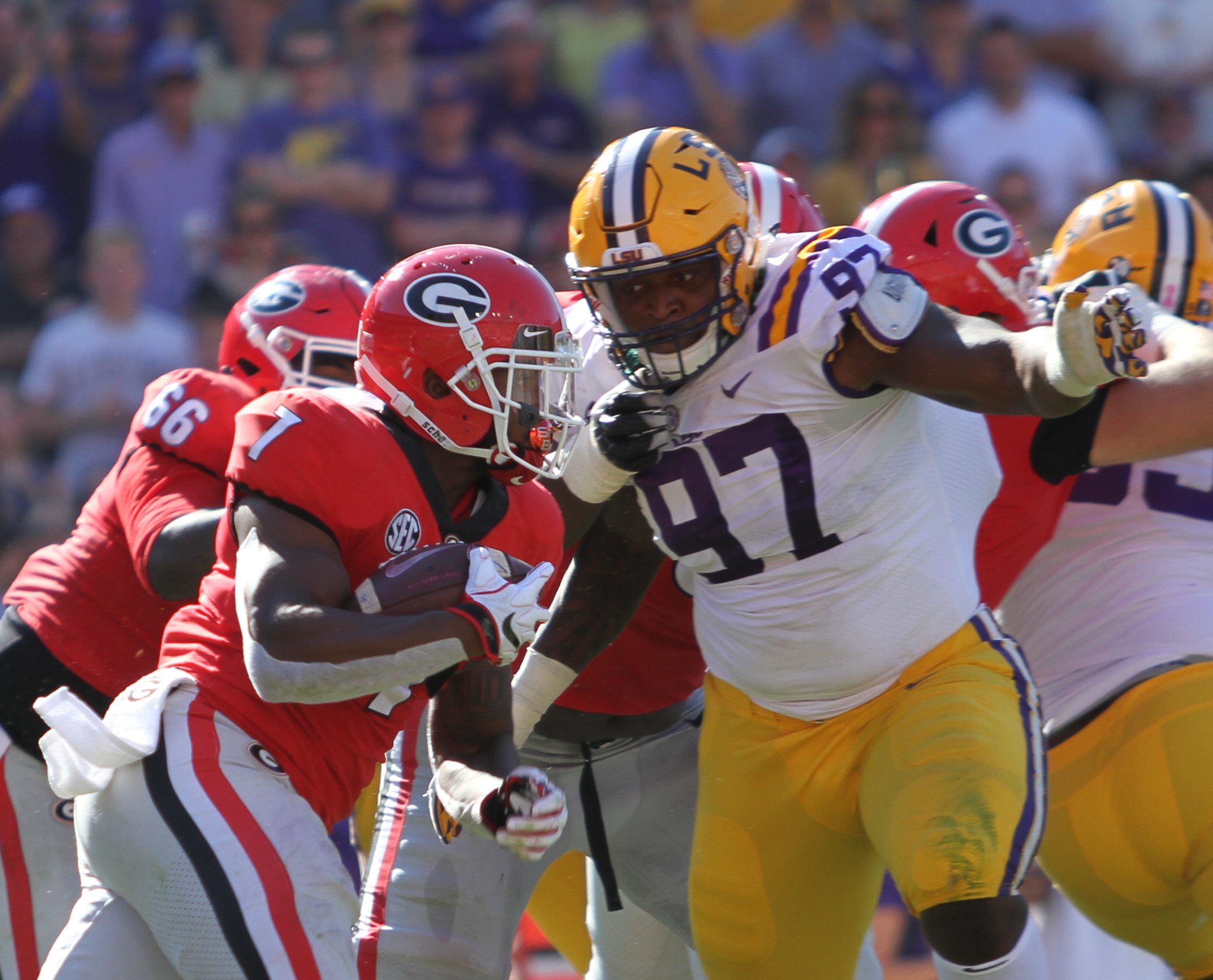 Photo courtesy of Tammy Baker
The 2022 College Football season is finally upon us, and this weekend, the defending national champion Georgia Bulldogs take the field against the University of Oregon. Being the national champion places the biggest bullseye on the back of the program, but looking at the Bulldog's schedule for the regular season, I'm fairly confident that this team will get through the season relatively unscathed!
Week 1: Sept. 3 @ 3:30 PM: Georgia vs. Oregon
The biggest challenge for all of the regular season could come in the first week for the Bulldogs, against the Oregon Ducks. The Ducks are one of two ranked opponents Georgia has on their regular season schedule, and are the highest ranked, currently standing at #11 in the preseason AP poll. Oregon has a veteran offensive line, with "85 - 90 percent of their snaps coming back across the offensive line," according to Georgia Head Coach Kirby Smart. The defensive line from Georgia should be able to handle the challenge regardless, but it's definitely something to look for during the game. Additionally, for those who do not know already, the new head coach at Oregon is Former Georgia defensive coordinator, Dan Lanning, who left this past offseason to take the job. The game will be played at Mercedes-Benz Stadium in Atlanta, in what is considered to be a "neutral" site.
Week 2: Sept. 10 @ 4:00 PM: Georgia vs. Samford
The Bulldogs face off in their second non-conference game of the season at home, against the Samford Bulldogs. Samford is an FC team and is coming off a 4 - 7 season, which saw them getting left out of the FCS playoffs. There isn't too much that can be said about this game, expect OUR Bulldogs to win by quite a bit in Sanford Stadium!
Week 3: Sept. 17 @ 12:00 PM: Georgia vs. South Carolina
The first taste of real SEC football comes in Week 3 for the Bulldogs when they face off against the South Carolina Gamecocks. This game will be a "House Divided" game between the younger generation in the Izaguirre family. While Georgia has lost a good amount of starters in the offseason to the NFL Draft, the Gamecocks have been busy gaining talent in the transfer portal, in particular the acquisition of former Oklahoma QB Spencer Rattler. While Georgia should beat South Carolina, expect a far closer and more competitive match than the week before.
Week 4: Sept. 24 @ 12:00 PM: Georgia vs. Kent State
The third non-conference game that Georgia will play all year comes against Kent State, which competes in the MAC, making them a Group of Five school. Kent State however is a competitive team in the MAC. Unlike Samford in the FCS, Kent State played in the MAC title game last season, ultimately losing to Northern Illinois. That being said, the talent gap between an SEC school and a MAC school is still a large margin, and the Bulldogs are expected to showcase that talent gap on the scoreboard in a dominant win.
Week 5: Oct. 1 @ TBD: Georgia vs. Missouri
Those of you who know me know that this game will be a particularly difficult one to write about! As a proud Missouri graduate, I would love to say that this game will be competitive, but Georgia in recent years has proven that to not be the case, and this year will likely not be any different. Missouri had a lot of trouble last year against the run. If that issue is still unresolved, then the Georgia running backs could have a field day and run the score up for a win on the road.
Week 6: Oct. 8 @ TBD: Georgia vs. Auburn
The Deep South's Oldest Rivalry resumes on October 8th when the Auburn Tigers head to Sanford Stadium to try to beat our Georgia Bulldogs. There was a question heading into this week about who would be starting at quarterback for Auburn, but head coach Bryan Harsin named T.J. Finley the week 1 starter for the Tigers. Having this game at home gives Georgia a big advantage as well against a team they would be likely to beat even on the road, making an upset at home extremely unlikely.
Week 7: Oct. 15 @ TBD: Georgia vs. Vanderbilt
Last year's matchup between Georgia and Vanderbilt could hardly be called a game between two SEC opponents, as Georgia steamrolled Vanderbilt on their way to a 62 - 0 shutout victory. This year, however, Vanderbilt actually delivered a smackdown of their own when playing Hawaii in Week 0, defeating the Rainbow Warriors 63 - 10. While Hawaii is certainly not on the same level competitively as Georgia, the Commodores could field a slightly more competitive team this year when facing Georgia and potentially put some points on the board, at least in what is expected to be an easy win for the Bulldogs.
Week 9: Oct. 29 @ 3:30 PM: Georgia vs. Florida
In Week 8, the Bulldogs head down to TIAA Bank Field in Jacksonville, FL to face off against the Florida Gators. Having this game down in Jacksonville will definitely be a challenge for the Bulldogs, as they face off in what could be their most challenging game of the season thus far, apart from perhaps the season opener against Oregon. Florida will be playing under brand new head coach Billy Napier, after former head coach Dan Mullen was fired last season after losing to Missouri (Ha!). While Georgia should be able to leave Florida with a win, expect a far closer game than the majority of games up until this point in the season.
Week 10: Nov. 5 @ TBD: Georgia vs. Tennessee
While Tennessee fans have a lot to be hopeful about when looking toward the future, especially after a fairly successful season last year, the Vols should still stand as no match for Georgia. Hot off the heels of what will hopefully be a win in Jacksonville, Georgia has another true SEC matchup playing Tennessee on the road in Rocky Top. Something to look out for in this game could be a pass-focused offense from the Bulldogs, as Tennessee last year was one of the worst passing defenses in the FBS, allowing an average of 283.9 yards per game through the air.
Week 11: Nov. 12 @ TBD: Georgia vs. Mississippi State
Another Bulldog vs. Bulldog matchup occurs when Georgia travels to Starksville to face off against Mississippi State. Similar to the Florida game, this is another game where our Bulldogs are going to have to be careful to avoid what could be a potential upset on paper. Georgia has lost one of the most talented defenses in the college football world, and they're going to go head to head with one of the better offensive minds in the game when they compete against Mike Leach and the Air Raid offense he has honed over the years. Add the fact that Georgia will be on the road, and this game has the potential to be a game that Georgia doesn't win in a blowout, and has Mississippi State keeping it close.
Week 12: Nov. 19 @ TBD: Georgia vs. Kentucky
Georgia closes out a tough stretch of solid SEC opponents with a game on the road at Kentucky, the other opponent besides Oregon that was ranked in the preseason AP poll, landing at #20. Kentucky has a good amount of talent returning on the offensive side of the ball, particularly QB Will Levis, who is projected to be one of the top quarterbacks taken in the 2023 NFL Draft (regardless of the fact that he is known to include mayonnaise in his coffee on occasion). This game promises to be another matchup of a high-powered offense vs. the bulwark that is the Georgia defense, with the Bulldogs likely coming out on top after four quarters.
Week 13: Nov. 26 @ TBD: Georgia vs. Georgia Tech
To close out the regular season, Georgia faces off against instate rival Georgia Tech. Georgia has won the last four matchups, and last year in dominant fashion, stomping their way to a 45 - 0 victory over the Yellow Jackets. While Week 13 is a long way away, this year's game should end up with a somewhat similar score, as the Yellow Jackets look to be in a similar position as last year, outgunned and outmatched by the talent on the Bulldogs roster. Expect a dominant Georgia victory and a serving of some Clean, Old-Fashioned Hate.
Want to Win When Buying or Selling A Home? Give Me a Call!
When it comes to real estate, especially in today's market, you need a proven expert working by your side to come out on top. When looking at properties for you and your family, you want a Realtor ® working with you who puts as much time into getting the game plan right as Kirby Smart does. I am able to pull comparable prices on homes, help you when negotiating with the seller, and make sure there are no surprises along the way. If you'd like to schedule a complimentary consultation, you can give me a call at (404) 576-8515, or by using the contact form below!