Preserving Historic Roots Leads to a Bright Future
Posted by Sandy Izaguirre on Thursday, September 15, 2022 at 10:00 AM
By Sandy Izaguirre / September 15, 2022
Comment
Learning More About the Main Street Program
How Suwanee's Old Town is Being Revitalized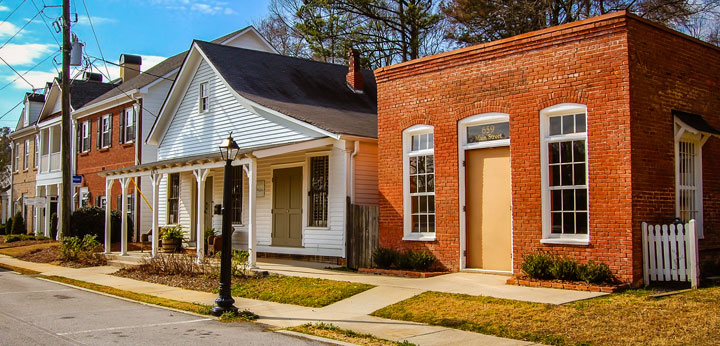 Photo courtesy of the City of Suwanee
History is an essential part of our great state of Georgia, after all, it was one of the original 13 American colonies when America was first settled. So it would only make sense that preserving its history would be just as important.
One of the historical initiatives that Suwanee can be absolutely proud of is its participation in the Georgia Main Street Program.
Georgia Main Street is a signature program for preserving and developing historic main streets all over the state. Since its inception in 1980, which began with only 5 towns, it has now grown to include over 100 communities statewide. Suwanee is one of those communities, having begun its own Main Street initiative in 2006.
Preservation and Moving Forward
The initiative does not only include communities in Georgia, but throughout the United States, in a program developed by the National Trust for Historic Preservation. Preservation of the nation's historic places was initiated by the National Historic Preservation Act of 1966. This important piece of legislation is intended to preserve historic and archaeological sites in the United States of America. When this Act was put into place, it created the National Register of Historic Places, the list of National Historic Landmarks, and required that every state have a historic preservation office in order to promote the preservation and use of historic places. Properties listed in the National Register, "include buildings, sites structures, objects, and districts that are significant in American history, architecture, archaeology, engineering, and culture." With this initiative, Georgia's own historic preservation office, the GHPD, embraced the "Main Street America" program within its own communities throughout the state.
The Main Street Program aims to strengthen a downtown or commercial district's economy. They focus on doing this through the following 4 strategies known as the 4 points approach:
Design - putting the original downtown framework and historic buildings into active use
Organization - creating a sustainable funding stream that will provide resources for the continued growth and development of the downtown area
Promotion - marketing the downtown within and outside the community, which will support buying from local experience
Economic Vitality - developing a diverse economic base using a mix of business, cultural institutions, and housing which all coincide harmoniously together to create a strong and vibrant downtown.
The Main Street program is successful in communities that have residents that are passionate about preserving their historical heritage and have a strong emotional connection to their communities. That sounds like Suwanee to me!
Historic Old Town
Revitalizing the buildings in the main street area promotes businesses to once again have pride in their historic main street areas, harkening back to a time when a town's "Main Street" was the center of commerce and socializing.
Suwanee's contribution to the Georgia Main Street Program is our very own, Old Town. Our revitalization efforts thus far earned Old Town its place as an accredited part of the National Trust for Historic Preservation Main Street Program.
Old Town Suwanee is a 56-acre historical district with a mix of residential and commercial properties, which is home to a cluster of buildings that date back from the 1880s through the 1960s. For a map of the historic Old Town and its historic origins, click here. It is home to our historic red caboose, Pierce's corner, the public library, Playtown Suwanee, the pedestrian tunnel, as well as businesses and churches.
Looking Ahead
However, Suwanee is thinking further than the main street program with its plan for revitalization and future development and has a bold "Suwanee 2040 Comprehensive Plan" in place as a guide to manage future development and growth within the Suwanee community. The vision statement, as stated on the town community website, reads:
"Suwanee 2040, will be a safe, fun, attractive, inclusive, evolving city with a unique, vibrant downtown that is well-connected to established neighborhoods and commercial/employment opportunities.

Neighborhoods farther from downtown will be largely suburban, while development types closer to downtown will be taller, denser, and highly walkable. Town Center will be the city's economic, social, and cultural hub. Historic Old Town will be characterized by a mixture of old and new quaint smaller-scale development integrated into the existing traditional fabric. Suwanee Gateway will serve local and regional commercial and employment needs.

Established neighborhoods will continue to be an essential source of quality homes attractive to families. Art, parks, greenways, and open space will be important elements for recreation and identity. Suwanee will continue to grow in a deliberate manner that enhances the city's varied communities and quality of life."
Suwanee to me, has always meant community, one of which I am very proud to be a part. I am happy to call the people within this community my neighbors and friends, and I look forward to what Suwanee builds on its historic roots for a bright and meaningful future. If you love Suwanee as much as I do, and want to make it your home, please reach out to me and introduce yourself. I would be honored to help that happen by finding you the best fit for your future home, maybe even a historic one!