Market Update: August 2022
Posted by Sandy Izaguirre on Thursday, August 18, 2022 at 10:00 AM
By Sandy Izaguirre / August 18, 2022
Comment
North Metro Atlanta Real Estate Market Update
Sales Price, Median DOM, and More Updates on the Housing Market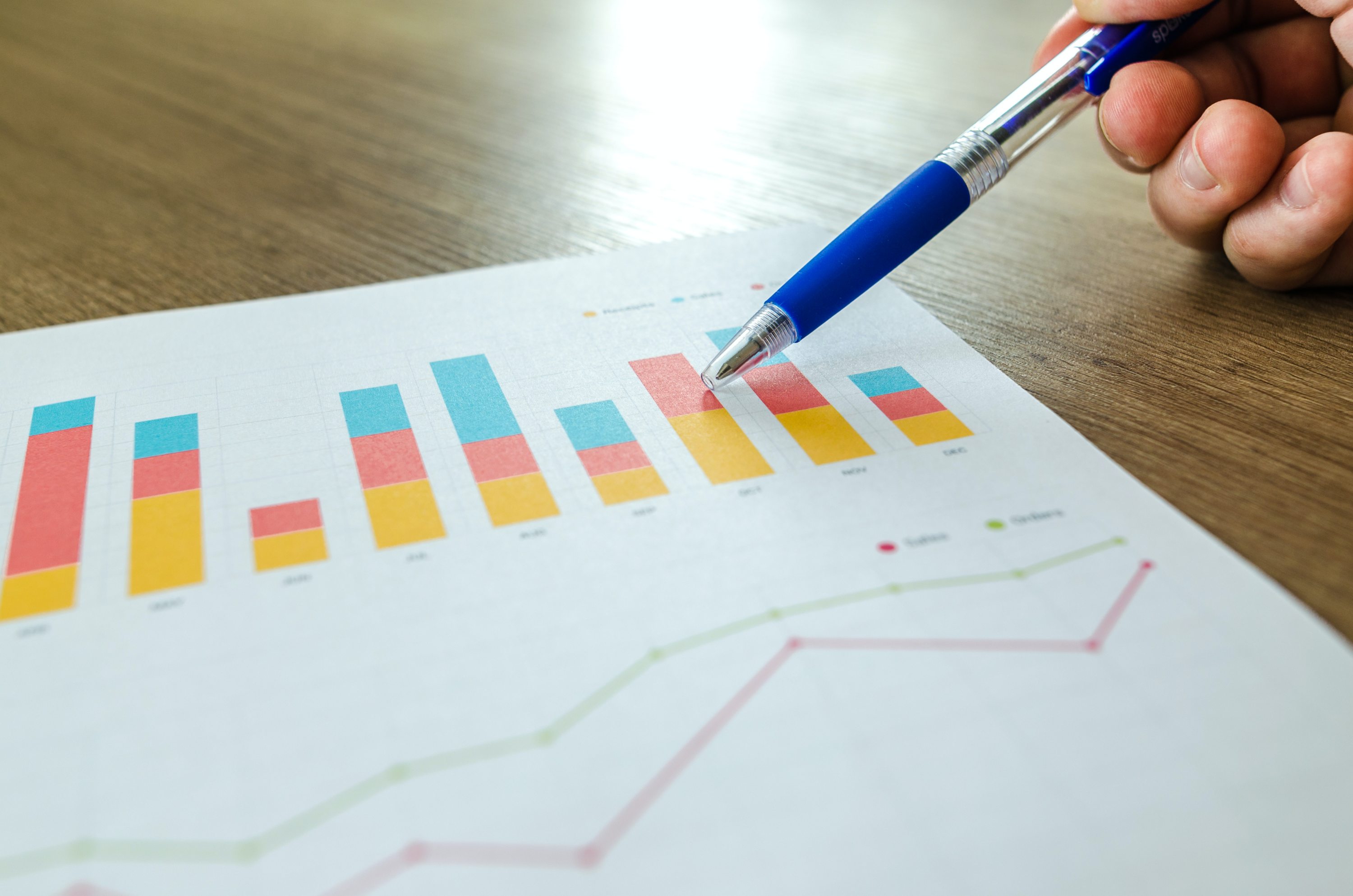 In our current market, with the level of inflation and federal interest rates increasing, it's crucial to stay informed on what is going on right now with the real estate market if you are looking at buying or selling a home. The best way to stay ahead of any possible trends in the future is to take a look at recent data. In today's blog post, we'll be going over the latest figures in median sales price, days on the market, current supply, and more. As a licensed real estate agent, I have the latest information available to me through the North Metro Atlanta MLS, which means the following information will reflect information accurate to our local market, and not national trends.
Median Sales Price in North Atlanta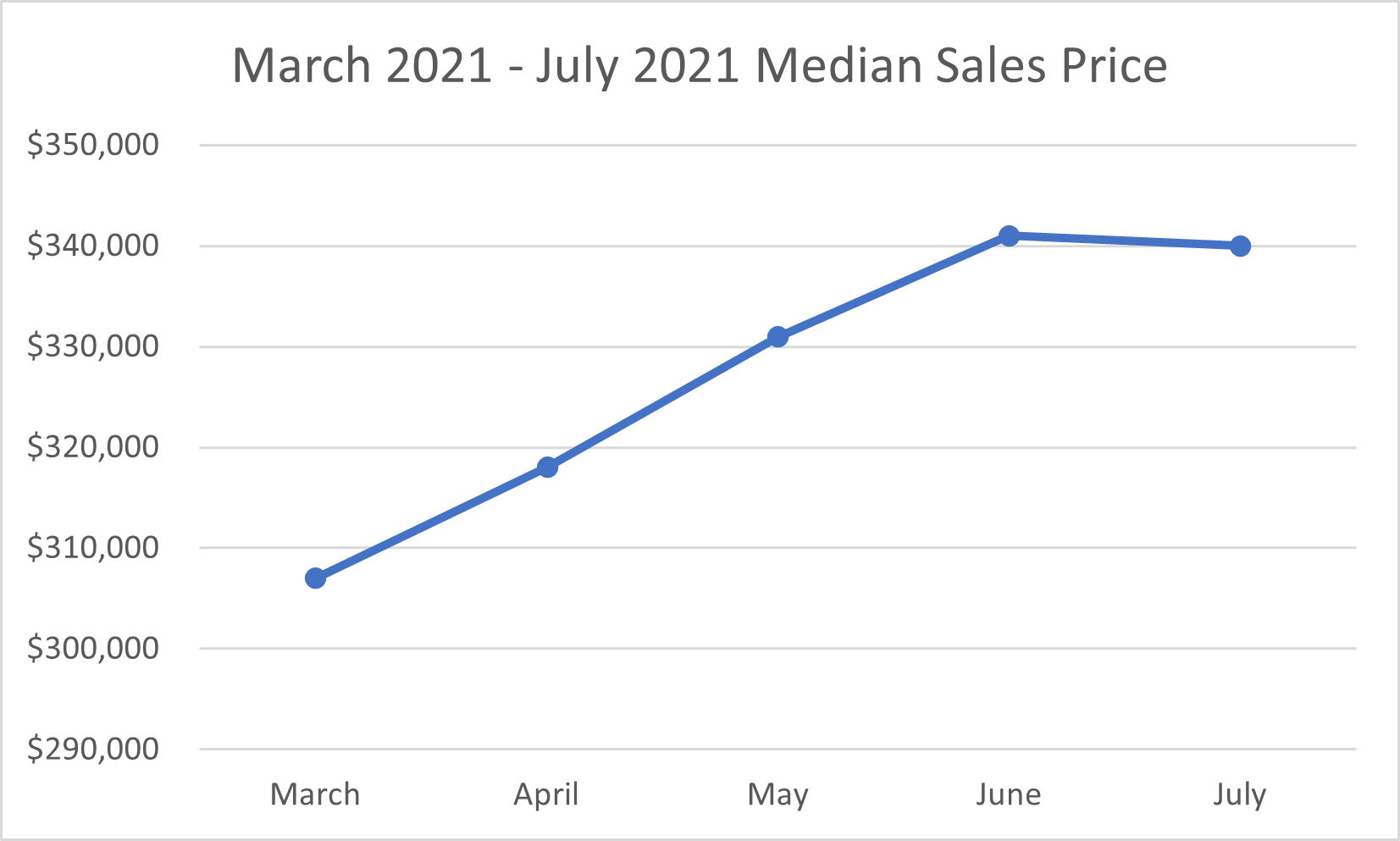 Looking at the chart above, you'll notice that the median sales price steadily climbed until May, leveled out until June, and then actually went down heading into July. However, looking at last year's median sales price of $340,000 (+14.7% YTD) shows that even though we are trending away from the incredibly competitive sellers' market, prices of homes are still higher than normal.
July 2022 Median Days on Market (DOM) in North Atlanta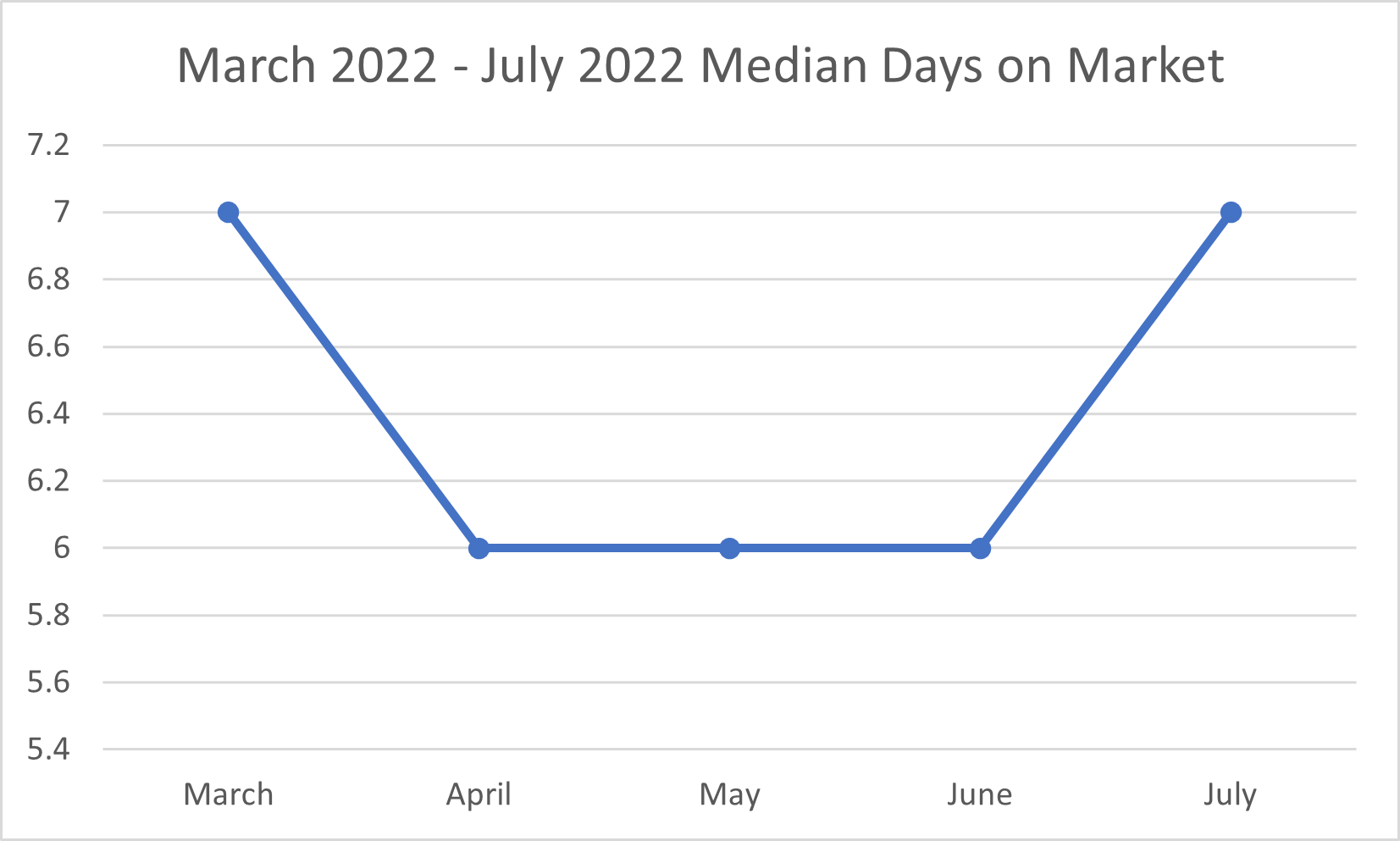 Looking at the median days on market for the past five months in our area, you can see that while days on market did level out between April and June, they have risen back to the seven days that we saw in March of this year. Comparing the numbers from last year, we see that the median DOM was 6, so just a slight increase there. This is where comparing our local numbers to the national median can provide some insight, as the national median days on market was 35 for July 2022. Our current market here in Atlanta is red hot, meaning you need to be as prepared as possible when looking to buy or sell a home!
Months Supply on the Market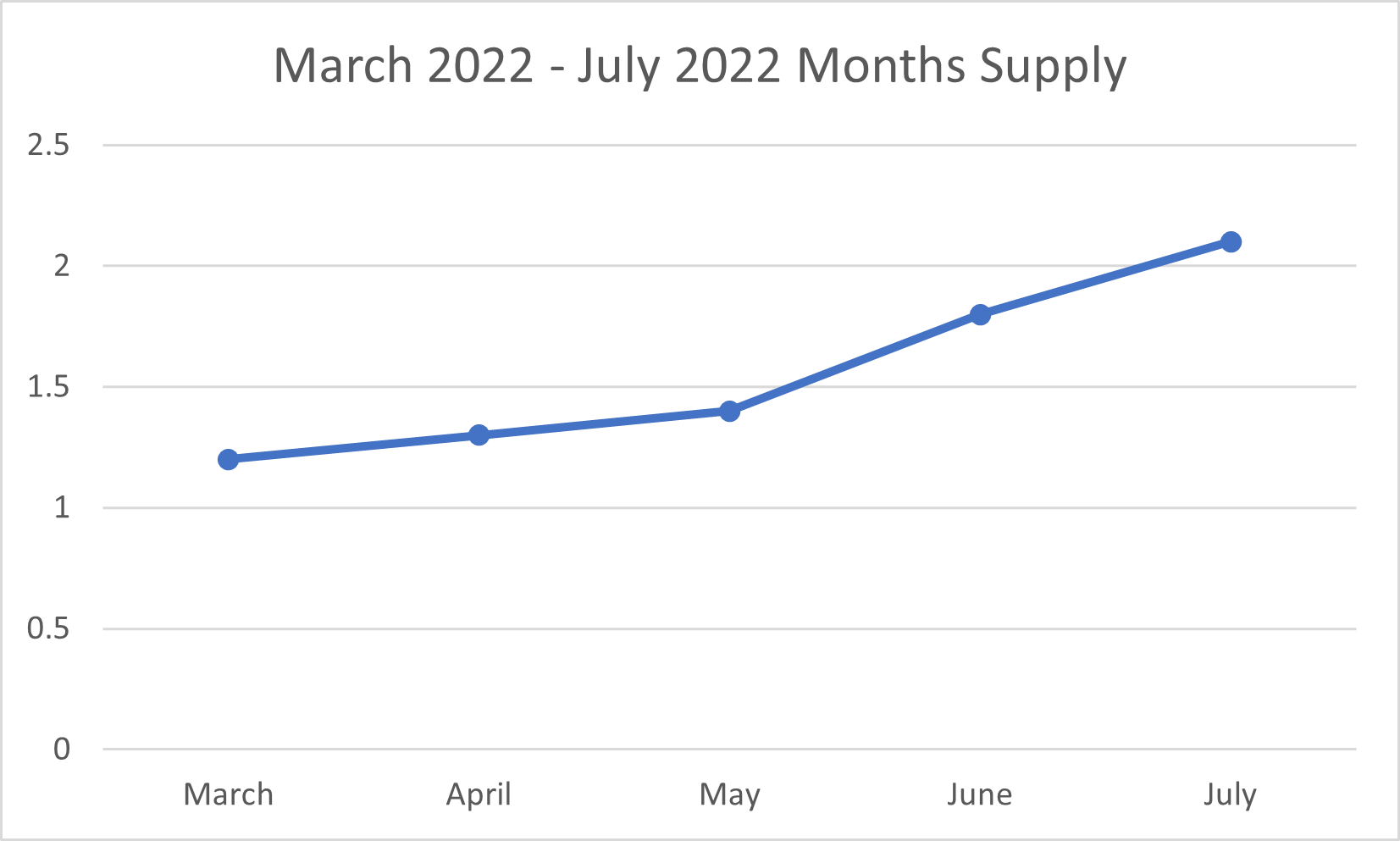 When looking at the numbers above, it's important to understand the context of what defines a sellers' market, a balanced market, and a buyers' market. A buyers' market occurs when there is more than 7 months of inventory, a balanced market when there is between 5 to 7 months of inventory, and a sellers' market when there is less than 5 months of inventory available at any given time. While the supply has slowly been increasing throughout the year, we are still solidly in a sellers' market and will be for quite some time. Sam Khater, the Chief Economist for Freddie Mac said recently that,
"Although rates continue to fluctuate, recent data suggests that the housing market is stabilizing as it transitions from the surge of activity during the pandemic to a more balanced market".
Percentage of List Price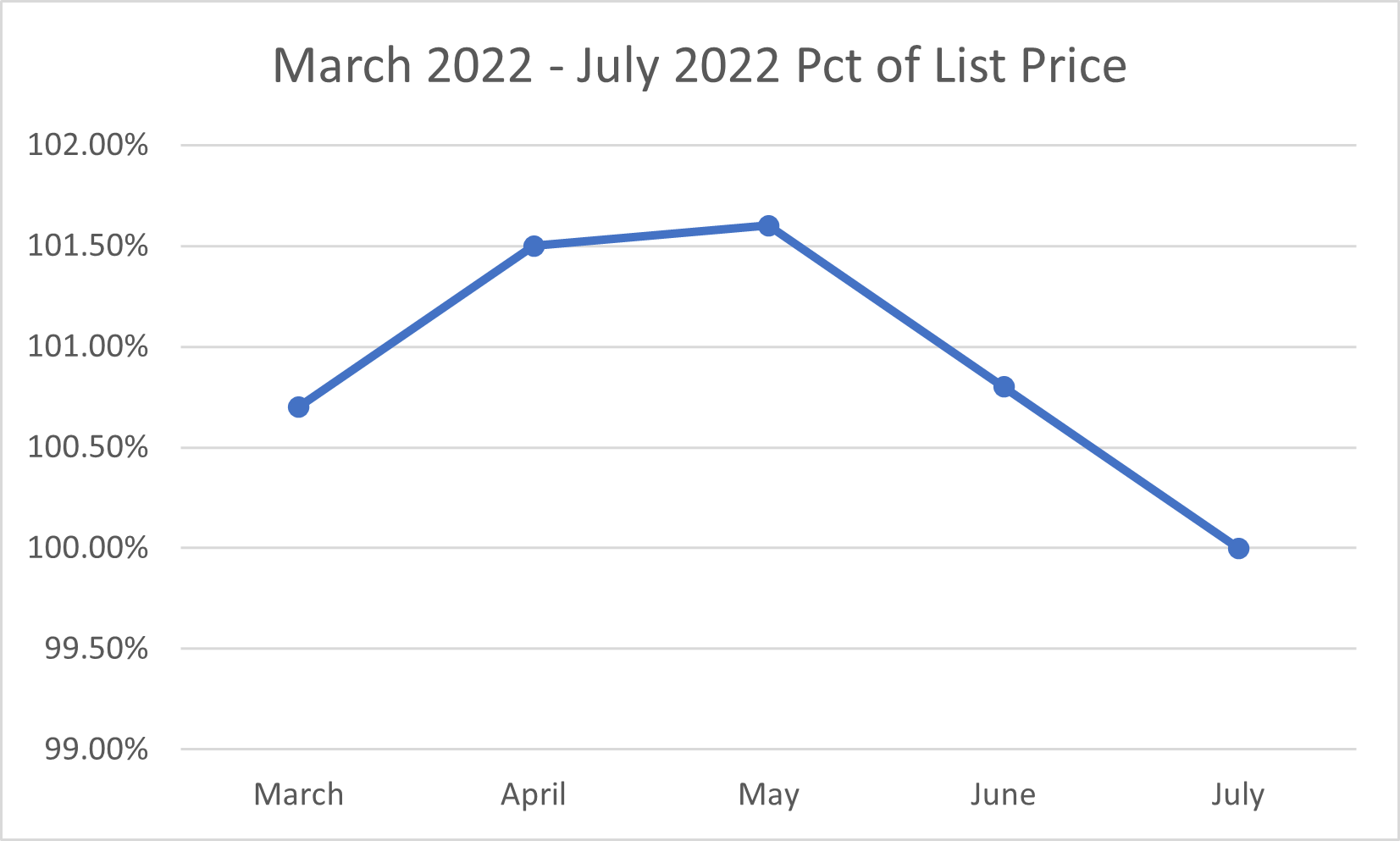 For those that are thinking about selling, this graph and the graph below are critical to understanding where you stand and where you could stand in the coming months. As you can see, the median percentage of list price paid to sellers last month was 100%, a steady decrease from the 101.5% sellers benefitted from throughout May. When considering the increase in inventory and how the market is slowly working toward a more balanced market, expect that percentage of list price to stay around this area, with some potential for a slight increase. While there is potential for the median percentage of list price to go below 100%, it is not likely when considering the supply and demand for houses in our market.
Showings Per Listing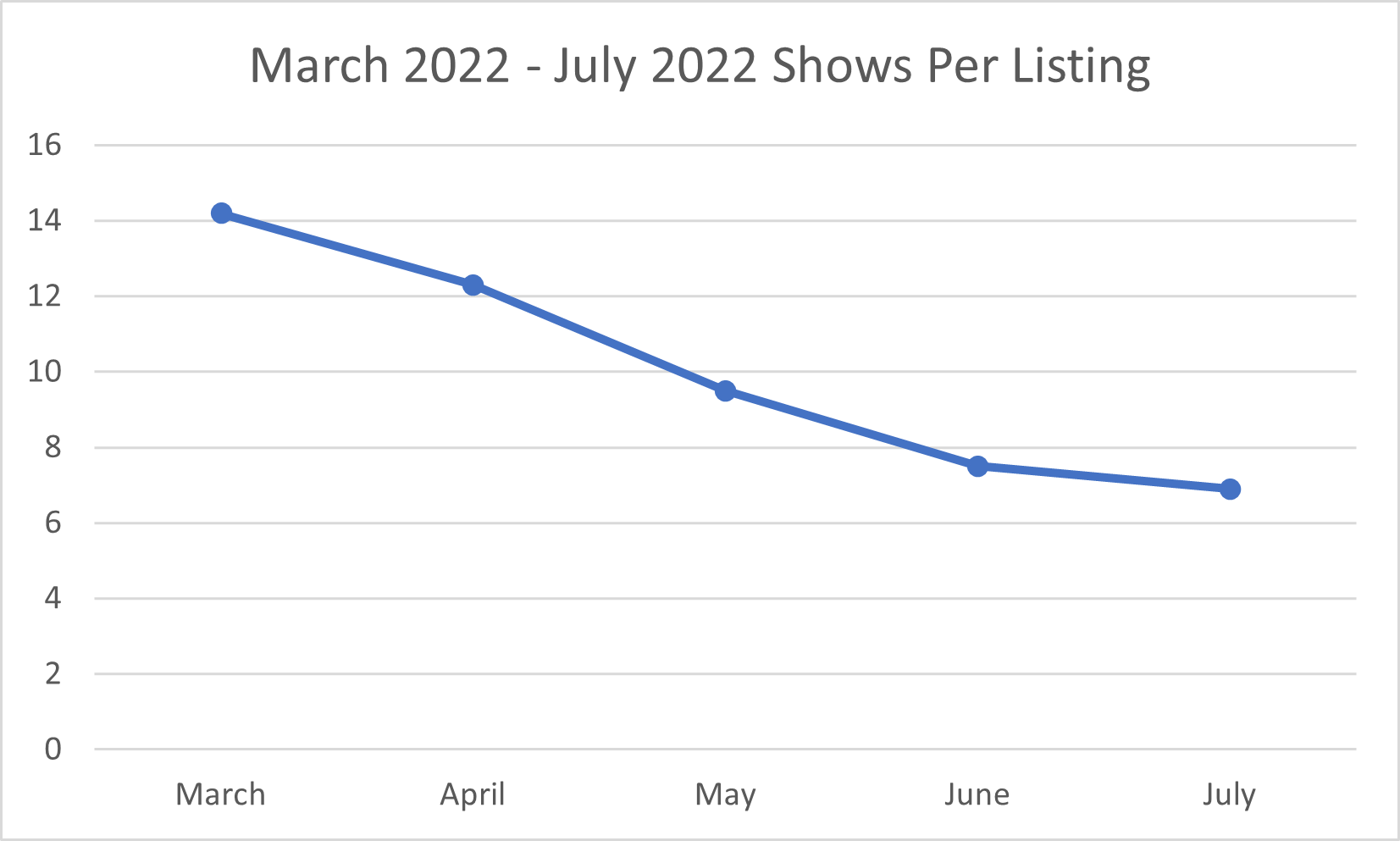 When looking at the median number of showings it took for a listing to go to pending, it is noteworthy that the number dropped by an increment of 2 showings from March to June, slowing down slightly heading into July at 10 showings per listing. This graph is more than likely indicative of buyers that were simply priced out of the market due to the recent increase in mortgage rates.
Hire a Full-Time Realtor ® That Will Keep YOU Ahead of the Curve
When looking at the graphs and statistics above, it's clear to win in this changing market, you need a full-time real estate professional who is doing the necessary research to put you ahead of the competition. If you would like to schedule a complimentary consultation, you can reach my team at (404) 576-8515, or by filling out the contact form below!