Making A Plan for Your Open Floor Plan
Posted by Sandy Izaguirre on Thursday, September 22, 2022 at 10:00 AM
By Sandy Izaguirre / September 22, 2022
Comment
Creating Elements of Organization in an Open Floor Plan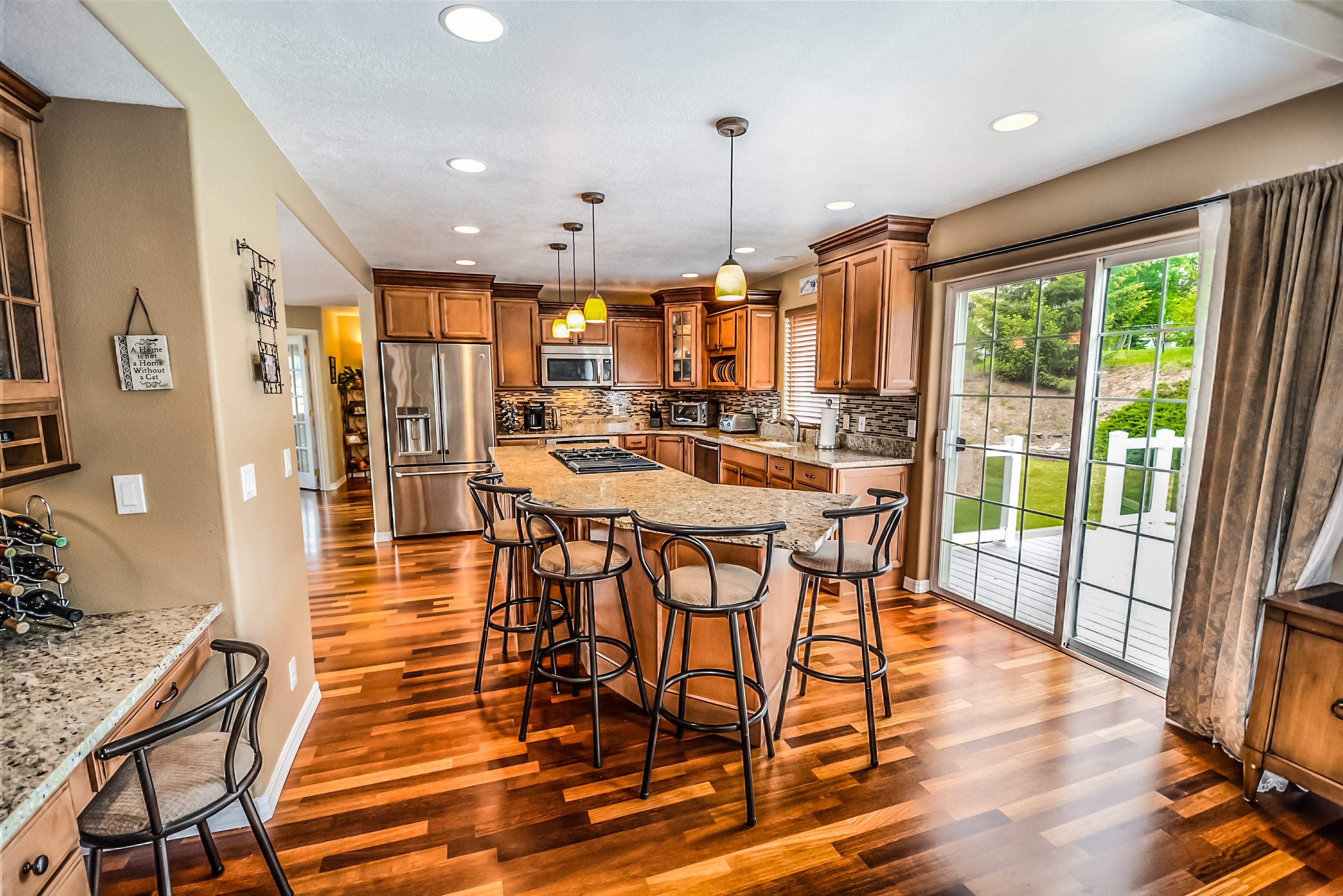 Photo by Pixabay: https://www.pexels.com/photo/kitchen-island-and-barstools-534151/
Anyone paying attention to the trend of floorplans in the last 15 years or so knows that an open floor plan is the "go-to" floor plan for most builders. The focus on these spaces has been opening everything up, making large communal spaces for the ease of entertaining and togetherness. You can't watch an HGTV show without a room being "opened up" in some shape or form. Homeowners with older homes have been swinging their sledgehammers to knock out walls left and right to create the desired "open" plan.
We've Come a Long Way ... But is That a Good Thing?
A home's layout has certainly come a long way from the designated zones maintained by walls, and separate rooms for everything. Walking into many older homes, you know exactly where the dining room, formal living room, and kitchen are designated to be. (Who had a "rumpus" or rec room just for the kids in the family growing up?) Now, we live differently. A more casual, less formal lifestyle has taken over from the family homes of yesteryear. Plans are more free-flowing, giving flexibility to space, with the focus on being multipurpose.
Is it Time to Break Up With Your Open Plan?
Although it might seem that big open spaces, and "all in one" living is a good idea at first, some people are finding out that maybe being separate also has its perks. Sometimes privacy and a cozy corner are just what you need to get some work done, or have some "me" time. The daunting size and ambiguity of a large open room can be intimidating, especially when it comes to furnishing the space, or knowing what the heck to do with it. So what do you do if you have an open floor plan, but need designated areas? Can you really have it both ways? Read along to find how you can infuse the cozy and practicality back into wide-open spaces.
First Things First. Before you make any sort of decision, it is important to think about how you live. Take time throughout your week to think about what spaces you may be lacking, including storage space, or any separate spaces. Include activities or uses the rest of the people who live in your home need as well.
Unify With Color. There will be a delicate balance between giving you the separate spaces you need, and making your space feel cohesive. One way to help ease this is to use color as a unifying tool. Having a similar palette in the entire space is a good way to have all of your spaces live in harmony. Use one or two neutral shades for your main colors, and add a couple of accent colors that go well together. This isn't to say that you can't add drama with color when defining individual spaces, (more about this later) but remaining in the same basic color palette will help your whole area flow.
Don't Let the Plan Keep You in a Box. Just because a certain space has been used for the same purpose since the inception of your home, there is no cardinal law that states it has to continue to have the same function. Sometimes using an area for a new purpose brings all sorts of new possibilities, and overall better functionality.
Create Zones. Creating zones in your open plan helps reel in the wide space into smaller, more manageable spaces. Office zone, TV zone, eating zone, craft zone, if these are all the purposes in your main living area, this helps you decide where they should be in your home to make the most sense of how you live.
Define Your Spaces. Approach laying your furniture out like making "mini rooms" within your larger space. Make your furniture work for you. Couches, bookshelves, and tables can all be used to define and direct the flow of your room. Utilizing the backs of furniture (couches, bookshelves) can also help with the designation of space, as long as they look good and can be done so safely. You can also use paint to define zones as well. Your cozy reading corner could perhaps be defined by a warm and inviting complementary shade, your dining area by a bold and fun wallpaper. Don't forget to make use of your ceiling as well as the walls and floors when it comes to helping designate areas. Light fixtures can also establish purpose depending on the fixtures you choose and the heights in which they are hung or areas in which they are placed. Nothing anchors a reading area quicker than a lamp by which to read.
Your Space is Unified, Now Accessorize! Layering in accent colors through rugs, pillows, throws, and artwork, adds to the warmth and cohesion of your open plan. Adding wood tones and metal tones in the way of accessories and storage add texture, so your rooms don't fall flat and have dimension. Infuse similar materials within all the open spaces. They don't have to be the same items (though they could be, for an ultra streamlined and clean appearance), but they should have similar tones. Don't be afraid to go as bold or as subtle as you want. Using accessories is the best way to show your personality within your space, and also the easiest to change if it doesn't work for you.
One of the best things that an open plan gives you, is the ability to change and adapt. As your needs change, so can your floor plan. All of your furniture and accessories work well together, so they easily adapt to your new spaces or placements. Laying in a unified foundation is the key to adaptability and cohesiveness. Don't let any preconceived notions of how you "think" you should live in your space define you. It is your home, experiment, think creatively, and try new things!