Exploring Gibbs Gardens, Georgia!
Posted by Sandy Izaguirre on Thursday, April 20, 2023 at 9:00 AM
By Sandy Izaguirre / April 20, 2023
Comment
Gorgeous Garden Right Outside of Atlanta!
A Perfect Place to Celebrate Earth Day!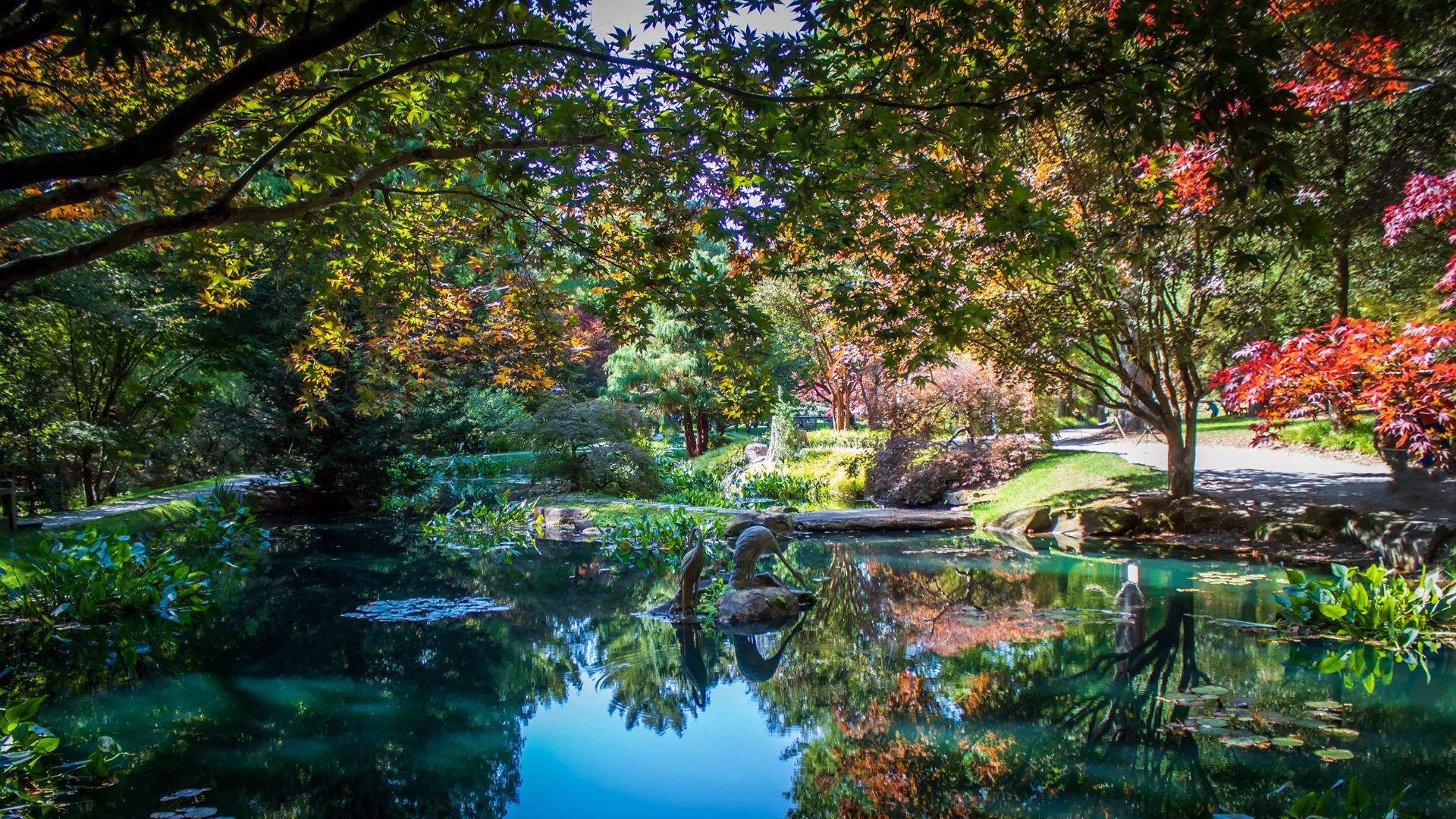 An hour north of Atlanta is a magical place for people who delight in gorgeous greenery, and Georgian flora. That place is Gibbs Gardens, a stunning 300-acre botanical garden located in Ball Ground, Georgia.
Gibbs Gardens was founded by James Gibbs (Jim), a successful landscape business owner who retired in the late 1980s to pursue his passion for gardening. He spent nearly 30 years transforming the property into one of the country's most beautiful and lavish botanical gardens.
History of Gibbs Gardens
Mr. Gibbs became a landscaper after he graduated from the University of Georgia in 1965. He received his degree in horticulture and a minor in landscape architecture. He began his tenure, developing a landscape design division for Green Brothers Nursery. From there he prospered, becoming a well-known designer, eventually purchasing the nursery and renaming it, Gibbs Landscape Company. He has received numerous awards, including two national awards presented to him by First Lady Rosalynn Carter, in 197,9 and First Lady Nancy Reagan, in 1981. He also is a founding member and lifetime trustee of the Atlanta Botanical Garden, which opened its doors in 1976.
After traveling the world and viewing gardens of all kinds over the course of 15 years, Jim was especially inspired by the gardens in Kyoto, Japan, so much so that he decided to build a world-class garden of his very own. A six-year search uncovered the perfect spot, off of Yellow Creek Road in Ball Ground, Georgia. The 300-acre site combined a rolling topography with a strong water source and mature trees. The acreage also included one of the highest crests in the county, and that is where Mr. Gibbs built his home. The European-style home was constructed with an array of architectural styles, but mainly European influenced. Many of the elements included in the building were imported from Europe, including a 12-foot, 14th-century limestone fireplace. Interior doors and windows were also brought in, as well as many antiques to furnish the home. The Manor House is situated 150 feet above the water gardens and captures a beautiful view of the north Georgia mountains.
The Grounds
The grounds around the house were started in 1980 and planted with 20 to 30-year-old trees and plantings so that a mature garden look was immediately obtained. Within the property, there are 16 gardens, each with its own unique theme and design. Some of the highlights include the Japanese Garden, the Waterlily Garden, and the Manor House Garden. In addition to the gardens, Gibbs Gardens features several impressive water features, including a waterfall that cascades down a 75-foot bluff and a 40-acre lake that's home to more than 1,000 koi fish. There are also 24 ponds, 18 additional waterfalls, and numerous streams with 32 bridge crossings. Walking paths wind throughout and with 126 benches in just one area alone, there are plenty of spots to take a rest or enjoy the view. A visitor center, a cafe, and a gift shop complete the grounds.
Visiting Gibbs Gardens
Visitors to Gibbs Gardens find themselves spending 3 or more hours touring the lavish grounds, which are separated into two main sections, the Manor House Gardens and Valley Gardens. A detailed illustrated map winds you through all the splendor that both sections have to offer. The gardens and grounds are open for the price of admission from March through December, with varying hours. Frequent visitors should explore the idea of membership, which comes with discounts and other perks.
There is also a specific bloom calendar, that advises you of what is particularly radiant during different " Colorfest " events. For a range of dates each year, be sure to check their "What's in Bloom" calendar.
Early Spring Blooms include:
Daffodils

Cherry Blossom

Tulips Colorfest

Dogwood
Spring and Early Summer
Azaleas

Fern Dell

Dwarf Drift Roses

Rhododendrons

Hydrangeas

Waterlilies
Summer
Daylilies

Crape Myrtles

Annuals and Perennials
Fall
Wildflowers

Azaleas

Japanese Maples
The World's Best Place
Gibbs Gardens was recently named, one of "The World's Best Places to See Daffodils" in Flower Magazine. No matter if you are an avid gardener, enjoy spending time outdoors, or just can appreciate nature in all of its beauty -, Gibbs Gardens will not disappoint.
You can even purchase a little bit of Gibbs Gardens for your very own garden. You can purchase Jim Gibbs's own signature Daffodil collection online. These are the same 15 varieties of bulbs he uses in the displays at Gibbs Gardens. Pre-orders for Fall 2023 are currently available here.
Want a yard that gives Gibbs Gardens a run for its money? Or maybe just a small-scale version of your own floral Heaven? Give me a call and we will set out in search of the perfect garden just for you and your green thumb!