Food & Fireworks! Delicious Desserts for July 4th!
Posted by Sandy Izaguirre on Thursday, June 30, 2022 at 1:00 PM
By Sandy Izaguirre / June 30, 2022
Comment
Patriotic Desserts That Are Sure To Satisfy
The 4th of July is such a festive time of the year. Summer is in full swing, most people are ready for a few days off, and it makes it the perfect time to celebrate with friends and family. Whether you are hosting your own get-together or dropping by somewhere else, delicious food is always welcome. Below are a few recipes that are sure to delight any small gathering or big crowd alike. Some are easy, some require a little more effort, but all are festive, fun, and delicious!
Wherever you are this 4th of July, may you have a wonderful day. If you are looking for a permanent spot to watch the fireworks from, be sure to reach out to me so that we can start the house-hunt for the best location to view them from!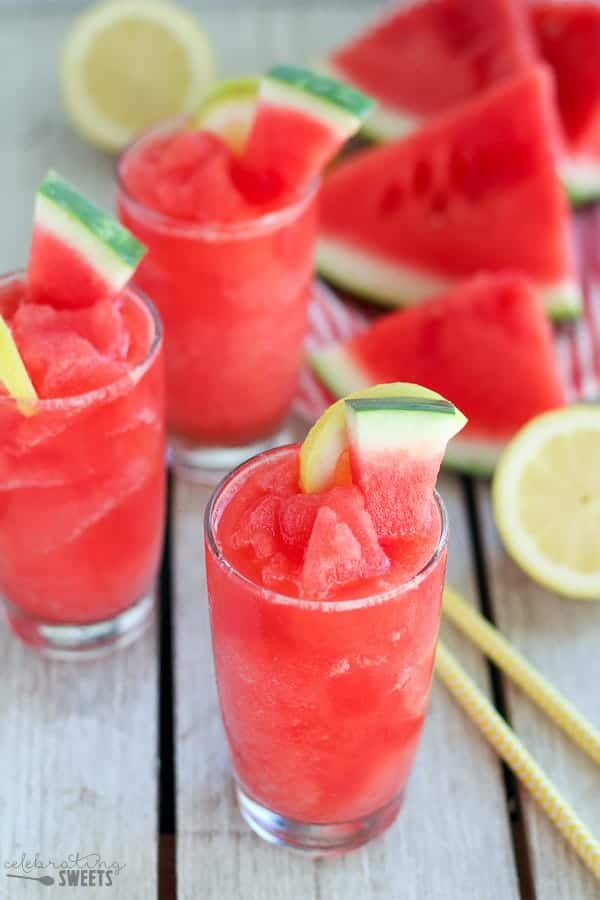 Ingredients
4 cups frozen watermelon
2 cups pre-made lemonade (of your choice)
Ice
Instructions
Process frozen watermelon and lemonade in a blender until combined.
Add ice if you'd like it thicker, or more lemonade if you'd like it thinner.
Serve immediately.
Feel free to add alcohol for a spiked slushie.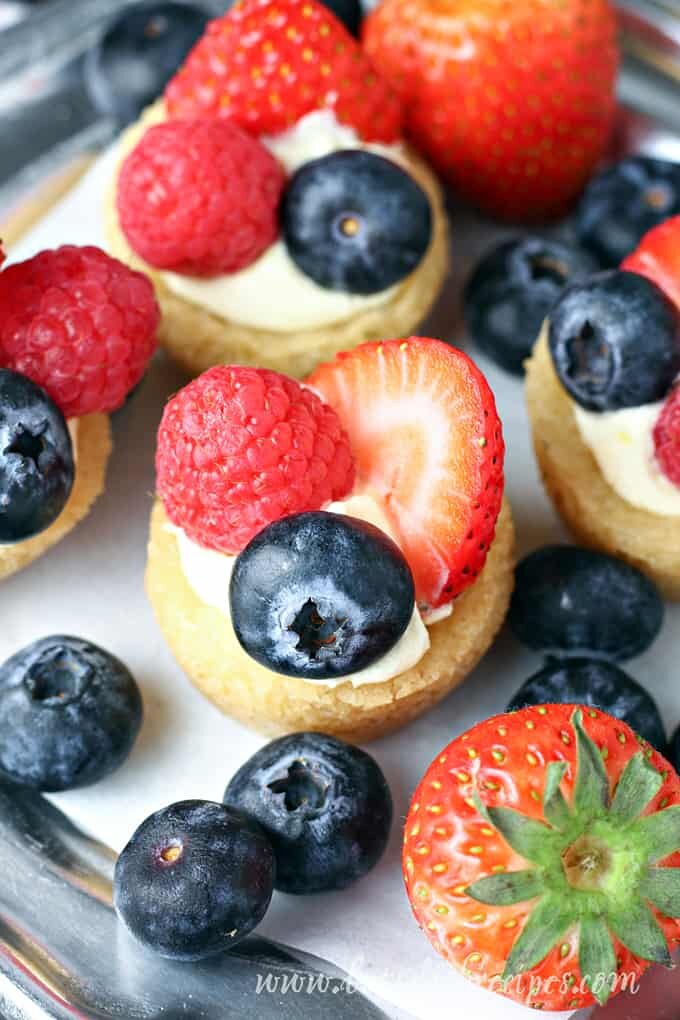 Ingredients
1 (16.5 oz.) package refrigerated sugar cookie dough
1 (3.4 oz.) package instant vanilla pudding
1 1/2 cups cold milk
8 ounces frozen whipped topping, thawed
3 cups fresh berries, washed and dried (sliced strawberries, blueberries, raspberries, blackberries, etc.)
Instructions
Preheat the oven to 350 degrees.
Grease a miniature muffin tin with non-stick cooking spray.
Roll cookie dough into 1-inch balls and place in muffin cups
Bake for 8-10 minutes, or until just golden brown. The dough should fall in the center to form a miniature tart shell. If necessary, tap dough down with the back of a spoon to form the shell.
Let cookie shells cool in the pan for about 10 minutes. Carefully loosen the cookies by running a sharp knife around the edges of the muffin cups, then remove to a wire rack to cool completely.
In a medium bowl, combine the pudding mix and milk. Fold in the whipped topping.
Spoon or pipe the pudding mixture into the cooled tart shells. Arrange berries on top of filling. Refrigerate until ready to serve.
Red, White, and Blue No-Churn Ice Cream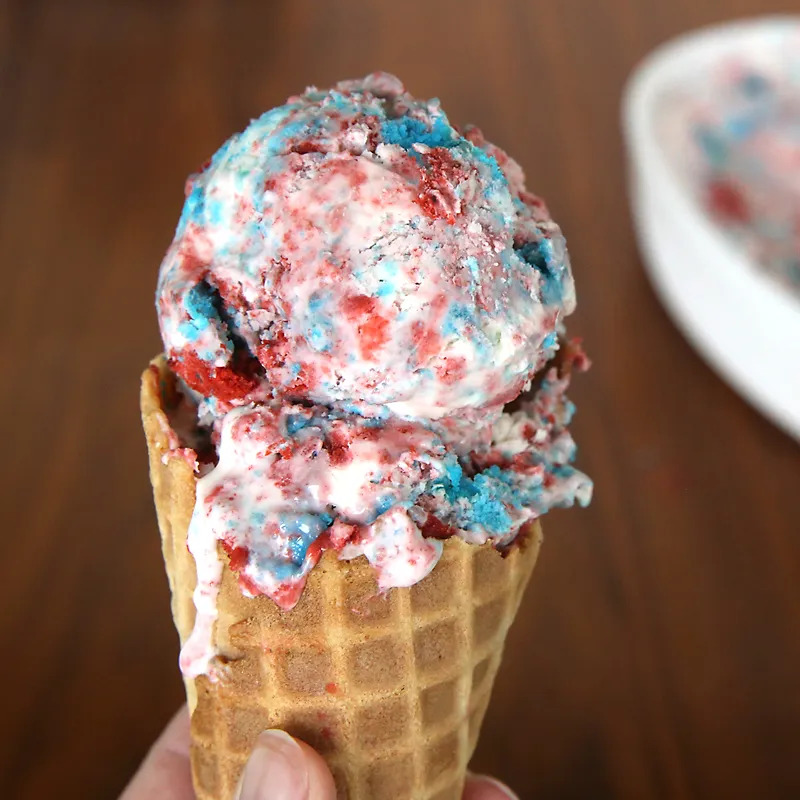 Prep Time: 45 mins
Freeze Time: 6 hrs
Ingredients
1 box White Cake Mix + Oil, Eggs, and Water as Directed on Box
Red and Blue Food Coloring
2 cups Heavy Whipping Cream
1 can Sweetened Condensed Milk 14 oz
1 cup Milk
1 teaspoon Vanilla
Instructions
Preheat the oven to 350 degrees
Prepare cake batter as directed on the box.
Divide batter into 2 bowls.
Tint 1 red and 1 blue. Bake as directed on the box, then cool.
For Ice Cream: Whip cream until stiff peaks form. In another bowl, whisk together milk, vanilla, and sweetened condensed milk until combined.
Pour over cream and gently fold together until mostly combined, taking care not to deflate cream.
Crumble in 4 red cupcakes and 4 blue cupcakes and stir gently. (Reserve remaining cupcakes for another use).
Pour mixture into a shallow dish and freeze for 6 hours until firm.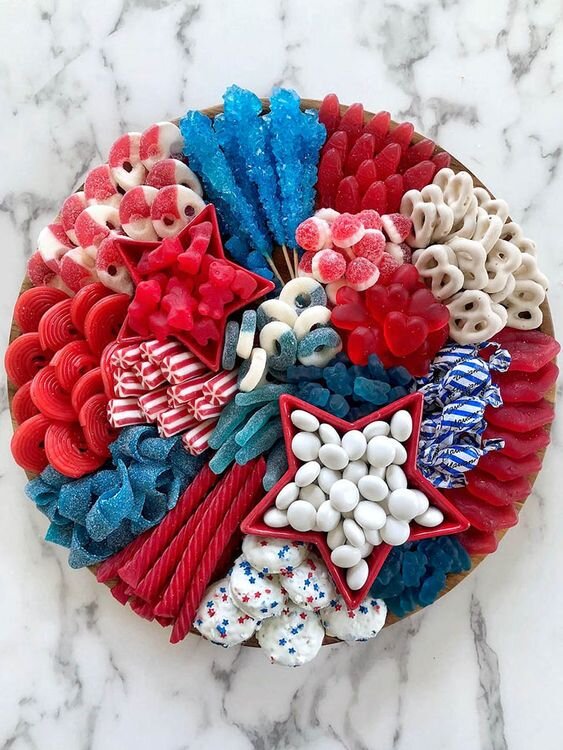 Ingredients
Red
Heart Gummies
Red Butterfly Gummies
Red Rock Candy
Red Lip Gummies
Red Licorice Ropes
Red and White Sour Gummy Skulls
Red Gummy Bears optional
White
Yogurt Covered Pretzels
White Chocolates with Red and White Sprinkles
Blue
Blue Sour Gummy Tape
Blue Gummy Bears
Blue and White Sour Gummy Rings
Instructions
First, add a square dish to the top left corner of a large, rectangular board.
Working from the top of the board (to the right of the square dish), add a single line of gummy hearts that reaches the right edge of the board. Then add a single line of gummy butterflies, followed by a single line of yogurt-covered pretzels, a double, layered line of redrock candy, a single line of white chocolates, a single line of lip gummies, another line of pretzels, a single line of red licorice ropes, and finally a single line of red and white skulls.
Add the blue sour tape and blue gummy bears to the dish. Then add the blue and white gummy rings on top in a pattern to emulate the stars on the flag.
If desired, add extra red and blue gummies in festive dishes on the side.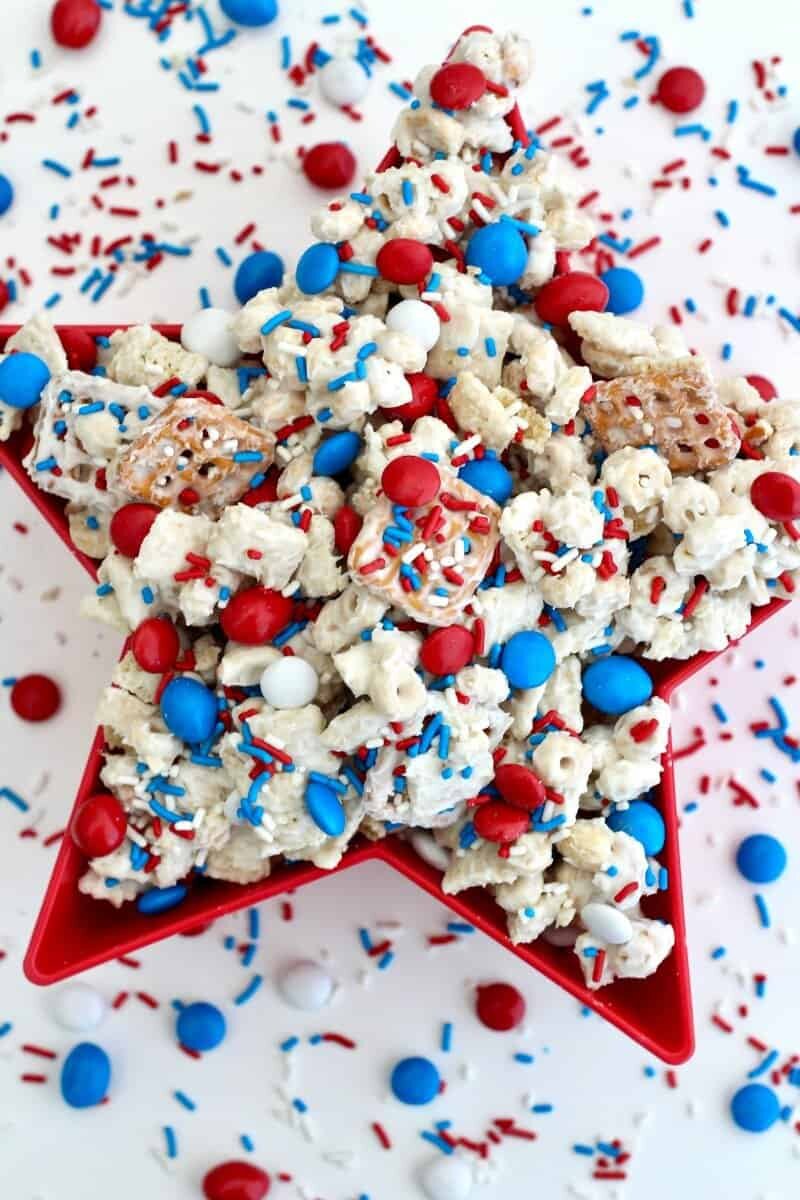 Ingredients
4 cups Chex cereal
3 cups Cheerios
2 cups pretzels snaps
1-1/2 cups dry roasted peanuts
1 (16 ounce) package candiquik candy coating or 1 (20 ounce) package vanilla almond bark
2 (1.7 ounce) containers red, white, and blue sprinkles
1 cup regular red, white, and blue M&M's
1 cup peanut red, white, and blue M&M's
Instructions
In a large bowl, combine the Chex cereal, Cheerios, pretzels, and peanuts.
In a microwave-safe bowl, melt the almond bark or candy coating according to package directions, usually 2 minutes, stirring every 30 seconds until melted and smooth. Be sure not to over melt the almond bark as it will burn and become too thick to stir and coat the mix evenly.
Pour the melted almond bark over the ingredients in the large bowl and toss to coat with a large spoon. Ingredients should be evenly coated in the almond bark.
Spread the mixture out in an even layer on parchment paper. Immediately sprinkle with the sprinkles and then the M&M's. Allow mixture to cool completely. Break apart to serve. Store in an airtight container or baggie.
Stars and Stripes Sugar Cookie Bars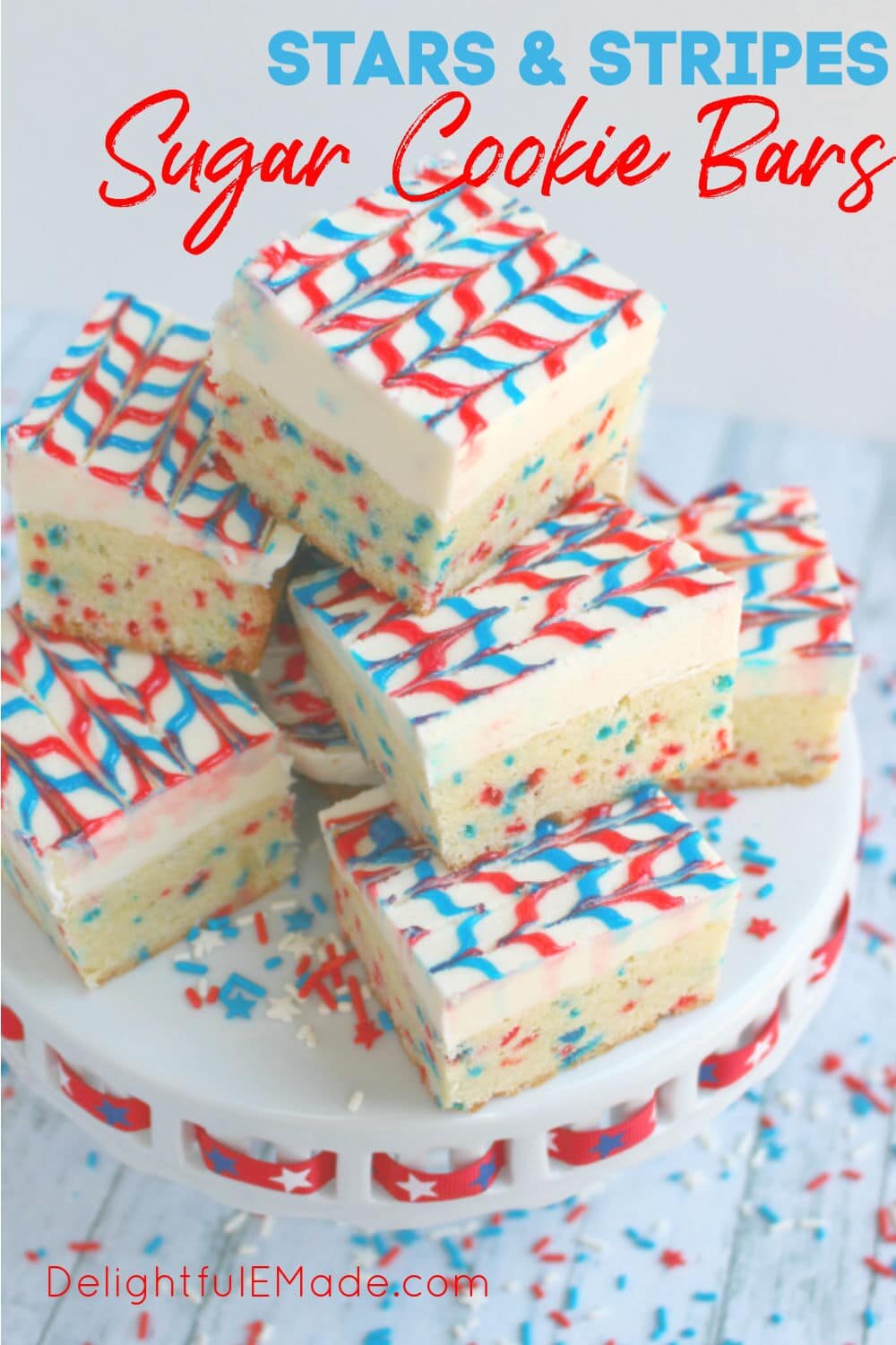 Prep Time: 20 mins
Cook Time: 22 mins
Ingredients
1 c. (2 sticks) butter, room temperature
1 1/4 c. sugar
2 eggs
1 1/2 tsp. vanilla
1/2 tsp. almond extract
3 c. flour
1 1/2 tsp. baking powder
1/4 tsp. salt
1/2 c. patriotic sprinkles or jimmies
For Frosting
1 c. (2 sticks) butter, room temperature
1 1/2 tsp. vanilla
1/2 tsp. almond extract
4 c. powdered sugar
2-3 Tbsp. milk
Red Sparkle Gel frosting in a tube (like Wilton Brand)
Blue Sparkle Gel frosting in a tub (like Wilton Brand)
Instructions
Preheat oven to 350 degrees. Line a 9 x 13" cake pan with aluminum foil and lightly spray with non-stick baking spray. Set aside.
For the cookie dough: with a stand or hand mixer, cream together the butter and granulated sugar until creamy and fluffy. Add the eggs, vanilla, and almond extract and mix until combined.
In a separate bowl, sift together the flour, baking powder, and salt. Gradually add the dry ingredients (about 1 cup at a time) to the wet ingredients, stopping the mixer to scrape down the sides of the bowl. Dough will be thick and slightly stiff. Fold the sprinkles into the dough.
Using your hands, press the dough evenly into the prepared pan. Bake at 350 for 19-23 minutes until just golden brown. Do your best not to overcook, as the bars will become hard and overly crisp. (20 minutes seems to be the ideal time.) Remove from the oven and let cool completely before frosting.
To prepare the frosting, with a hand or stand mixer, cream the room temperature butter along with the vanilla and almond extract. Gradually begin adding the powdered sugar one cup at a time, stopping the mixer to scrape down the sides of the bowl. As the frosting gets stiffer, add the milk one Tbsp. at a time as needed. Spread the frosting over the cooled bars. Add alternating lines of the red and blue gel frosting, about 1/2" apart. Using a toothpick, drag through the lines of gel to create a herringbone design.
For easy cutting, refrigerate the bars until just before cutting and serving.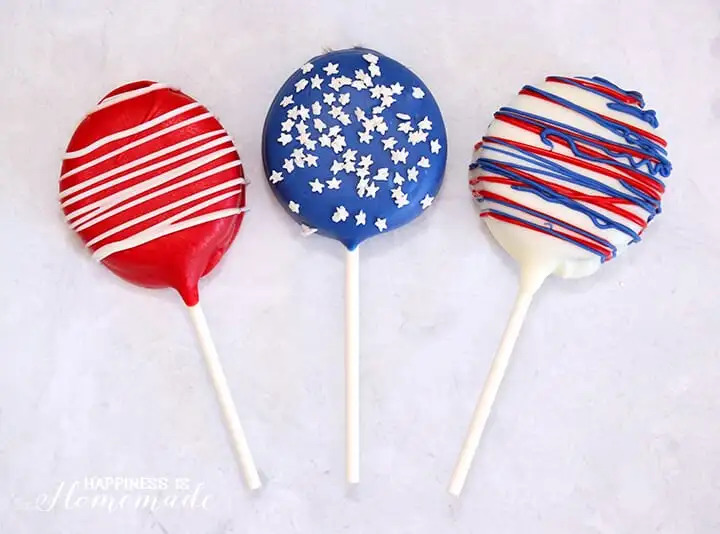 Ingredients
Wilton Candy Melts in Red, White, and Royal Blue
Oreo Cookies
4" Lollipop Sticks
Assorted Sprinkles (I used small stars, large stars, and patriotic nonpareils)
3 Microwave-Safe Cups
Snack Size Ziploc Bags (optional - for drizzle decorations)
Instructions
Start by twisting and separating the Oreos into two halves.
In a microwave-safe cup, melt a small amount of white candy melts in 20-second increments, stirring well after each.
Dip the end of a lollipop stick into the melted candy, and sandwich it between both halves of the Oreo. Allow the candy to cool and firm completely before moving on to the next step. ( a quick trip to the freezer will speed up the process if you're in a hurry.)
Fill a microwave-safe cup about 2/3 full of red candy melts, and melt them in a microwave (again using 20-second increments and stirring afterward).
Dip the Oreo pop into the red candy, allowing the candy to completely cover the cookie, and then lay the cookie pop on a sheet of parchment paper to cool and firm up.
Add sprinkles while the candy is still wet (if desired). Repeat the process for each additional color of candy melts.
Add a drizzle of color, melt 6-8 candy melts in a snack-size Ziploc bag. The candy will melt much faster in the bags than it did in the cup, so melt it in 10-second increments, kneading the bag between increments.
Snip a TINY bit off of the corner of the bag, and drizzle the melted candy over the Oreo pops.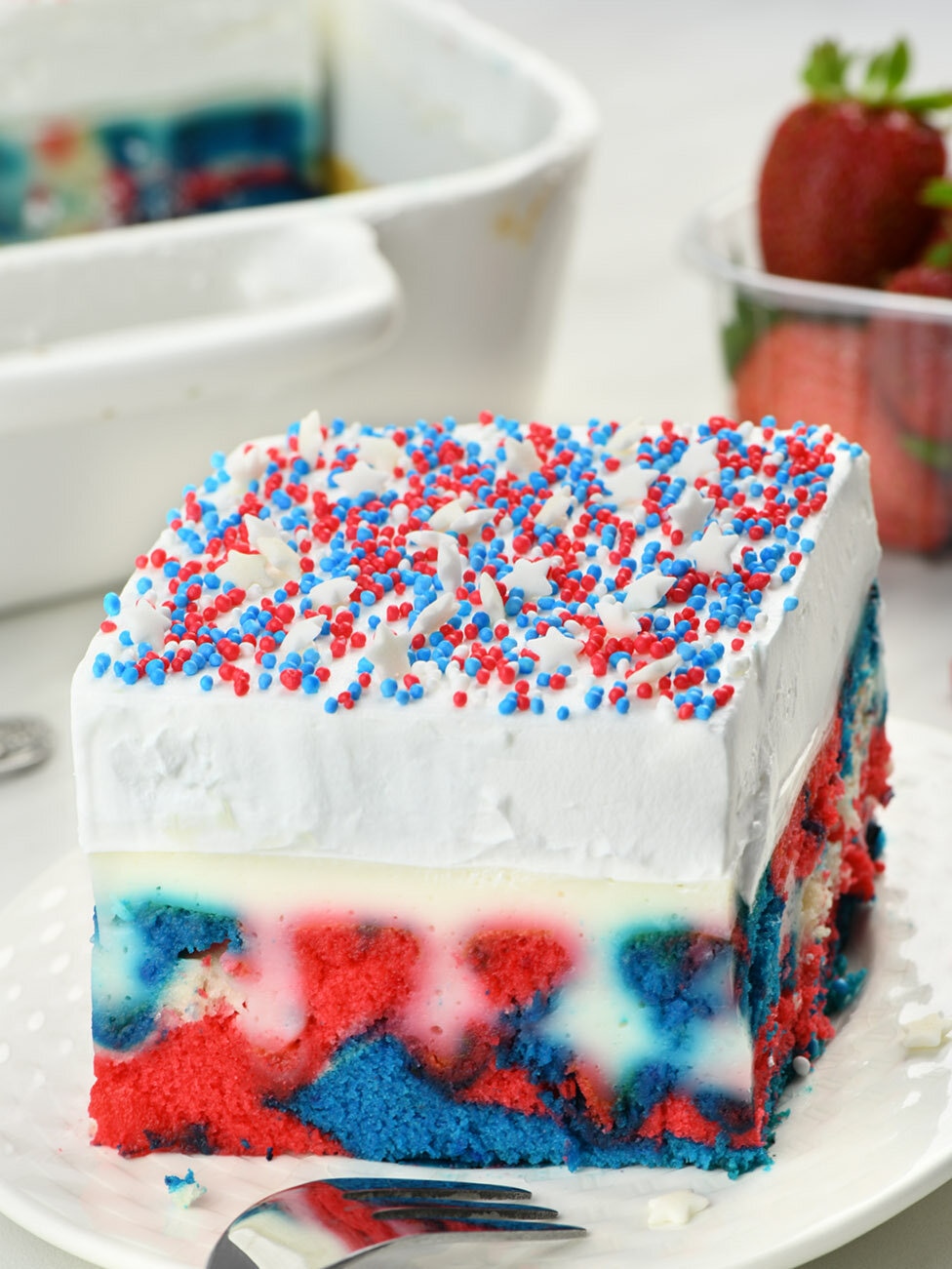 Prep Time: 30 mins
Cook time: 30 mins
Ingredients
1 box white cake mix
Ingredients listed on the box (eggs, water, oil)
2 (3.4 oz.) boxes instant cheesecake pudding
3 1/2 cups milk
2 1/2 cups heavy cream
1/4 cup powdered sugar (or more to taste)
1 teaspoon vanilla extract
Blue and red food coloring
Sprinkles for garnish
Instructions
Preheat the oven to a temperature specified on the box. Grease a 9x13 inches baking dish with baking spray and set aside.
Prepare the cake mix according to the directions listed on the box.
Next, divide the mixture into 3 equal portions. One portion should stay white. Add red food coloring in the second portion, and blue coloring in the third. Stir well until the color dissolves completely.
Then using a spoon, make small drops of each mixture in the bottom of the baking dish. Drops will spread in the greased dish so you should do this quickly. I suggest you drop one color at a time leaving a few inches apart between the drops, then make the drops with the second color, then the third, until you cover the bottom of the pan. Then drop another layer on top until using all mixtures. Finally, tap the baking dish on the counter to flatten the surface, do not spread with the spatula to avoid mixing the color. Using a toothpick, swirl the colors just a little bit (you want the colors swirled not mixing together). Bake as directed on the box.
When the cake is baked and sits at room temperature for about 10 minutes, poke the cake. Use the handle end of a wooden spoon to poke holes all over the top of the cake, then allow it to cool completely.
In a bowl, combine the instant pudding and milk, whisking until the pudding is dissolved. Before the pudding sets completely, pour it over the cooled cake, trying to fill all the holes completely. Spread remaining pudding on top and place in the fridge to set completely.
When the pudding is set and the cake is completely cooled, top the cake with whipped cream. Mix chilled heavy cream and vanilla extract until soft peaks form. Add powdered sugar and mix until stiff peaks form. Spread over the pudding layer.
Garnish with sprinkles before serving.
Store leftovers in the fridge.