2023 Fourth of July Events in Suwanee!
Posted by Sandy Izaguirre on Thursday, June 29, 2023 at 9:00 AM
By Sandy Izaguirre / June 29, 2023
Comment
Fun Fourth of July Events!
Fireworks Safety Tips, and Ways to Celebrate Without Fireworks!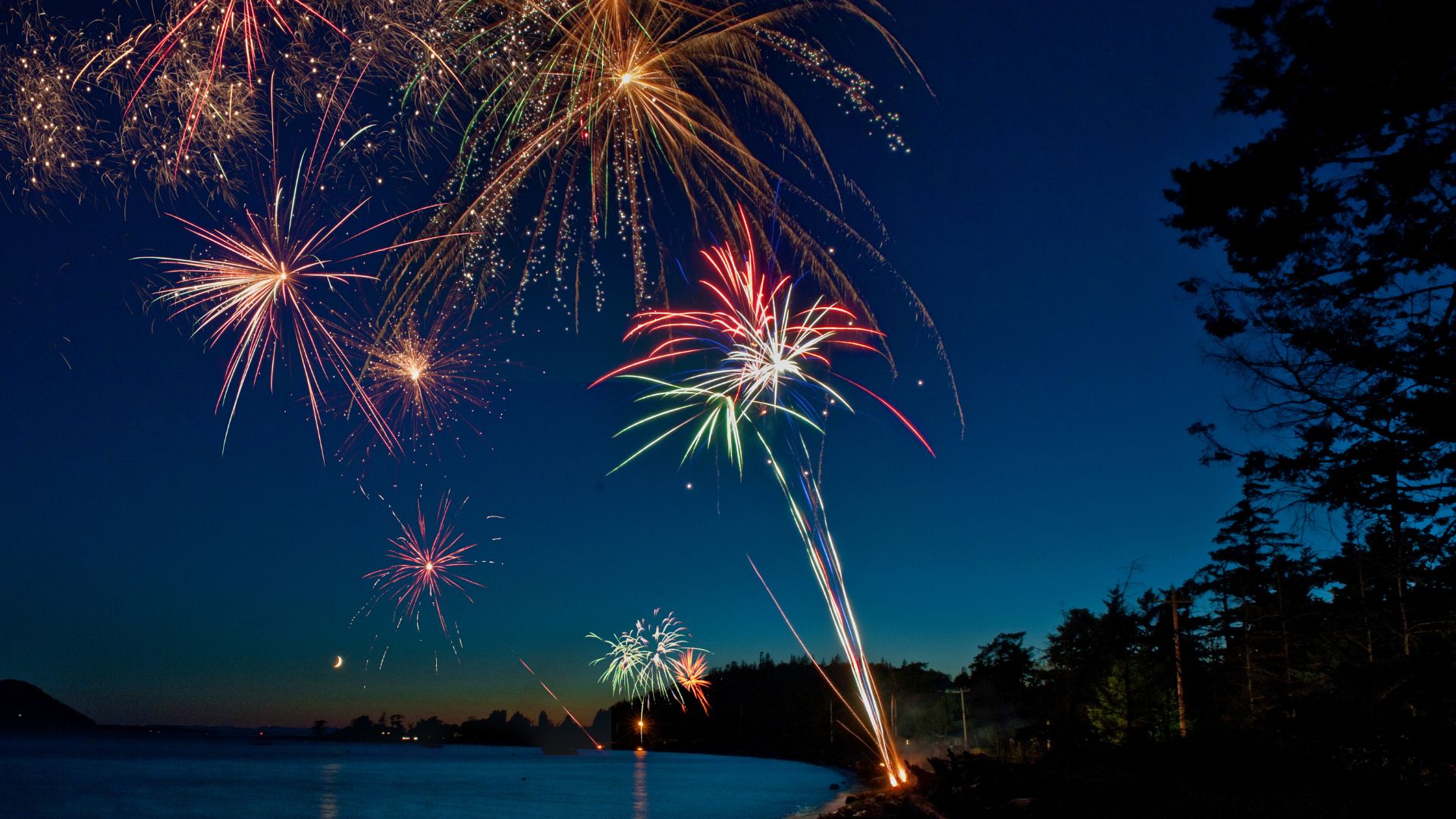 Welcome to the 4th of July WEEKEND!
Independence Day is upon us and it is time to break out the red, white, and blue and celebrate the birth of our Nation! Undoubtedly, you've seen the signs of this approaching holiday for weeks now, with the placement of American flags and other patriotic decor adoring yards, porches, and storefronts. Even if you don't make a big deal of it at home, there are plenty of places around our community that do, and where you can go to take part in the 4th of July festivities. If you want an alternative to "the usual" pomp and circumstance and want to honor the day in another way, I have some suggestions for that too. Read along to see how to celebrate the 4th of July weekend, no matter what your idea of fun is!
Fun Firework Free Celebration Ideas
Here are some ideas to get into the patriotic spirit, without fireworks:
Use alternatives to fireworks to celebrate! Set out glow sticks & noisemakers to get into the festive spirit. Other fun items are re, white, and blue "Silly String" or bubble makers.
Pick teams and participate in a water gun or Nerf gun war.
Indoor or outdoor movie night, complete with snacks! Moves like An American Tail, October Sky, Annie, Miracle, Independence Day, National Treasure, The Sandlot, A League of Their Own, A Night at the Museum.
Make and Take Craft Night - many stores like Hobby Lobby or even Amazone have some great craft ideas that center around the 4th of July. If you choose to make a red, white, and blue home decor item, it can be used multiple times a year for Flag Day, Memorial Day, Independence Day, Labor Day, and Veteran's Day.
Have an old-fashioned good time with yard games like cornhole, horseshoes, or bocce. Hold a family tournament with fun and simple prizes for the winners.
Beat the heat with simple solutions like a Slip and Slide, sprinkler, or water balloons.
Throw a birthday party for the USA complete with cake or have a make-your-own ice cream sundae party.
Staying at Home With Fireworks
Should you choose to include self-launched fireworks in your Independence Day celebration, be sure to follow some helpful safety tips. Always purchase your fireworks from a trusted vendor. There are many popups selling fireworks this time of year, so be sure to choose the one you purchase from carefully to make sure you are buying high quality, undamaged or current fireworks. Be leary of expired/old, and damaged fireworks.
Be sure to consider the launch site, as well as the "landing" area of expelled fireworks. You don't want to unknowingly start a fire.
It's also illegal to use fireworks within 100 yards of these types of properties:
Electric Plant
Water Treatment Plant
Waste-Water Treatment
Gas Station
Refinery
Electric Substation
Jail or Prison
Helipad
Hospital, Nursing Home, or other Healthcare Facility
It's also illegal to set off fireworks within any park, historic site, recreational area, close to the roadway, in the roadway, or on other state property, without prior authorization.
Georgia Insurance and Safety Fire Commissioner John F. King offers the following safety tips for using legal fireworks:
Always read and follow label directions
Only use fireworks outdoors
Never experiment or attempt to make your own fireworks
Only light one firework at a time
Never re-ignite malfunctioning fireworks
Fireworks should only be used with close adult supervision
Never give fireworks to small children
Be sure to have water handy
Never throw fireworks at another person
Remember to call your local 911 for emergencies
Rules are in place to keep everyone and everything as safe as possible.
Patriotic Celebrations Including Fireworks
If you want to include fireworks in your weekend plans, but want to leave the launch to the experts, be sure to check out the following events around the Suwanee area. Not all of them are slated just for the 4th, so you may be able to partake in more than one with some planning. No matter where you go be sure to bring a blanket, or some folding chairs, in addition to some bug spray to keep the night pests at bay!
Fire, June 30, 2023 at 5:00 PM: Lawrenceville Lawn, 210 Luckie St, Lawrenceville, GA 30046
"Get ready for an incredible evening of fun, music, and fireworks as we celebrate Lawrenceville's Prelude to the Fourth! Join us at the Lawrenceville Lawn on June 30 for a festive, family-friendly event that is free and perfect for all ages.
Cozy up on the Lawn with blankets and chairs and enjoy delicious snacks and treats from a variety of food trucks. Enjoy the music of the 80s and the 90s with live performances by Gump Fiction (90s) & Cassette Rewind (80s) on the Lawrenceville Lawn stage.
As the night wears on, we'll be gearing up for spectacular fireworks show that will light up the sky with bursts of color and excitement. It's the perfect way to get in the mood for the Fourth of July and celebrate our community's spirit and strength."
Date: Monday, July 3 | Time: 5:00 - 10:00 PM | Location: Lillian Webb Park, 5 College St NW, Norcross, GA 30071
"The City of Norcross is excited to host Red, White & Boom on Monday, July 3rd at Lillian Webb Park from 5:00 - 10:00 p.m. There will be food, live music, face painting, and more - making this the perfect way to kick off your Independence Day celebrations!
Get ready for an amazing fireworks display that will light up the night sky in shades of red, white, and blue. But before the show starts, enjoy live music, delicious food, face painting, and other fun activities for the whole family.
This event is free and open to the public, so bring your family and friends and let's celebrate together! Be sure to bring your blankets and chairs so you can relax and enjoy the show. Please note that shade structures, tents and umbrellas are not allowed."
E.E. Robinson Park, 850 Level Creek Road, Sugar Hill, GA 30518
Monday, July 3, 6:30 - 11:30 PM
"Join us for Sparks in the Park at E.E. Robinson Park on July 3rd for live music and fireworks!"
Monday, July 3rd, 6:00 PM - 10:00 PM
Newtown Park, 3150 Old Alabama Rd, Johns Creek, GA 30022
"Celebrate our country's independence at Newtown Park with live music, activities, food, and an exceptional fireworks display! Fireworks will begin after sunset. Multiple food trucks will be present for purchasing food and refreshments."
Tuesday, July 4th, 5:30 - 10:00 PM
Lilburn City Park, 76 Main St NW, Lilburn, GA
"Celebrate Independence Day in Lilurn City Park! Fireworks, Live Band, Kid's Activities, Food Trucks, and lots of Fun!
Food Vendors: Crave Hotdogs & BBQ, Hungry Hippo Eats, Frozen Sweets, Island Chef Cafe, Lisa's Creperie, Mrs. Rosa, Not As Famous Cookies, Pico's Hotdogs, Queen Churro, Sabrina's Cakes, and the Fresh Truck.
Activities: Photo Booth, Balloon Art, and Caricature Art are free while supplies last and are scheduled from 6-9 pm. Face Painting is from 5:30-9:30 pm and the cost depends on your selection. Inflatables are unlimited use with the purchase of a $10.00 wristband."
Tue, July 4th, 8 - 10 PM | Wills Park, 11925 Wills Road, Alpharetta, GA 30009, Alpharetta GA
"Celebrate our great nation with your family under the stars watching a brilliant display of fireworks at dusk in Wills Park. Fireworks will commence when the sky is dark; approximately 9:30 p.m. If there is a weather delay, the latest start-of-show will be 10:40 p.m. Families are encouraged to bring-your-own-fun with a blanket, picnic, and games for a memorable evening together."
No matter how you choose to spend celebrating this holiday weekend, please be safe and be mindful of others in your celebration. Happy 4th of July everyone!